The more I swim around the fly fishing industry, the fewer and fewer small fish and young fisherman I see.  Perhaps it's because just starting out fly fishing can be tricky, without the proper experience and information, but I'm willing to bet that most of the older fisherman and bigger fish are more than willing to lend a hand or stick out a fin…
This holiday season maybe the older anglers and fisherman might consider giving a gift that never stops giving; a fly fishing rod.  A fly rod becomes an heirloom that can be passed down from generation to generation.  I'm willing to bet that if the kid in your life receives a fly rod, then you might have to spend less time teaching him some of life's more important lessons, like patience and faith.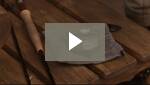 A fly rod is a simple tool that once mastered can create art and inspire you to travel the world, sharing your passion with anyone willing to listen.  We hope Ethan's Fly Rod Tutorial will help you select the right fly rod this holiday season.  In addition to fly rods, guided trips, classes and lessons are always good ideas for that special fisherman in your life.  Give us a call today and let us help you make your next fly fishing experience an unforgettable one.
Tight Lines,
Laurence Fishbone