Many years ago, in 1881 to be exact, Judge Owen Nickerson Denny (US consul to China) shipped 30 Chinese Ring-necked Pheasants (26 survived the journey) to his home in the Willamette Valley of Oregon.  And ever since these wily cocks have been roaming the farm country of North America and fly fisherman have perhaps reaped the benefits just as much as America's bird hunters.
China is a country that highly regards symbolism and imagery as a means to define and enrich their lives and culture.  The Chinese pheasant represented light, virtue, prosperity and good fortune.  And maybe that is why I continue to get fooled by your so called, "Pheasant Tail" flies!  Of course I always fall for an egg pattern in the fall and you might just get me pissed off and aggravated enough for me to chase your streamer!  But, the Pheasant Tail can often be the wild card that puts me in the net…
With its life like fibers the Pheasant Tail is and always will be, one of the top flies in the sport!  Learn to tie them today, with a Fly Tying Lesson from Denver's Angling University.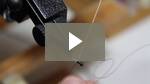 Or, if you're already on the vise, try tying one of Ethan's "Shiz Nymphs" with pheasant for the tail.  This fly is a deadly match for most of beautiful Colorado.
Tight Lines,
Downtown Brown…Stay Fishy my Friends…