There is just nothing more frustrating than being out on the water and not having the right fly.  The right fly patterns can provide the difference between a good day and an epic day on the water.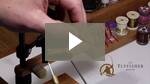 Winter is a great time to stock your fly boxes and get them organized for next summer.  Follow these helpful tips this winter season and you might just find yourself with more flies than your boxes can handle:
Take a fly tying class!  With the right tools and materials fly tying is really a fun and easy winter time hobby to get started in.  Good fly tying instructors can really help quicken the learning curve.
Volunteer to help at a Trout Unlimited fly tying event.  Teaching kids how to tie wooly buggers and San Juan Worms is a great way to get youngsters excited about fly fishing and fill your fly box at the same time!
Do a little on stream clean up!  You will be surprised at just how many flies you can find tangled up in the willows around some of our favorite local tail waters.
Attend winter time fishing shows and trade shows.  Many fly tiers and fly companies will have huge discount sales on their patterns.
Garage Sales!  There are boxes and boxes of flies lurking around local garages and sheds just waiting to get stocked in your fly box.
Tight Lines,
Lone Wulff McWade