It is mid-summer in Denver, Colorado and the sunny skies and warm weather have been great for carp fishing on the fly.  Most of the local reservoirs, lakes and ponds have cooled off and the carp are rarely seen in the shallows but Denver's South Platte is still a great option for fly fisherman looking to feel the tug of a big fish!  Carp fishing is relatively simple in practice, but hooking these fish on the fly can be extremely challenging as carp require precise and accurate fly casting and are also eagerly spooked.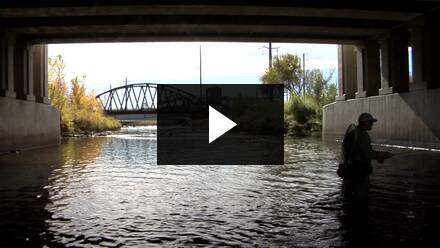 Try following these tips for more success fly fishing for carp:
Use the buddy system – a good buddy will always help you catch and land more carp.  Sometimes it is helpful to get a spotter from a bridge to help the angler cast over fish that have been spotted.  Also, netting a big carp alone can be difficult; it is much easier to have a net man around.
Invest in a quality pair of polarized sunglasses – a good pair of glass is invaluable when looking for carp in low light and dirty water.
Bring the right rod and a quality reel – a good 5-7 weight will land carp but you must have a reel with a good drag system to stop the fish when they run.  Carp are very strong and make fast runs like bonefish!
For terminal tackle 9' leaders and 2x-3x tippet will have you covered.
The beauty of fly fishing for carp is that they are everywhere!  Look for the slow and deep holes anywhere along Denver's South Platte or take a walk around a local reservoir, lake or pond.
Use trout tactics – on Denver's South Platte carp will behave very similar to trout, stacking up in riffles and deeper runs while they sip bugs from the current.  Nymph fishing with indicators is a very productive way to get hook ups once fish are spotted.  Classic trout flies like San Juan Worms and Rubber Legged Hare's Ears will do the job.
Stay persistent – Carp fishing on the fly is hard!  A never give up attitude is a must when fly fishing for carp.
Hopefully these tips will help you land your next Carp or Rocky Mountain Bonefish!
Tight Lines,
Downtown Brown… "Stay fishy my friends…"